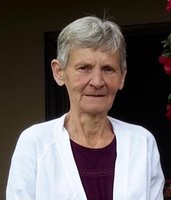 Linda Grove
Linda Grove was born in Calgary on March 23, 1950. She was the first of four children for Gordon and Betty Kirkman. She passed away suddenly, at home, on May 11, 2019.
Linda attended school in Lougheed from kindergarten to grade 9, and then completed her high school at Central High, in Sedgewick. After High School, she went by bus to Calgary where she trained to be an LPN. She stayed with her Gramma Paterson for the ten months that the training took. She returned to Lougheed and worked at the Hospital in Hardisty right up until her first child arrived.
Linda married Carl Grove and together, they raised four children on the family farm where many cherished memories were made. Family time was very important to her. Nothing made her smile more than the times her loud, unruly mob descended on her house for holiday dinners or a random Sunday visit. She could muster up a meal for a horde of people, at what sometimes, seemed, a moment's notice. There was always a pot of coffee and a baked good ready to go on the table.
Linda was very active in the community. She volunteered and served on many boards and community organizations. After the kids moved out, she started to work full time at the Lougheed Co-op. Over her lifetime, she also ran various kitchens such as catering, running the booth at Hardisty Lake, and most recently, The Leaf in Hardisty. She loved to cook and feed the masses. The best Christmas present we received were the laundry basket of baking, jams, cookies, lefsa, perogies, etc that was made with love for each of us, throughout the year.
Linda was predeceased by her husband Carl, her parents Gordon and Betty, her brother Max, her sister and brother-in-law, Mary-Jane and Duffy. Linda is survived by her children Patty (Darren), their children Leah and Keiran. Ronnie (Brenda), their children Karli, Connor, and Colby. Bobby (Melissa), their children Jack, Ben, Hannah, Asher, and Davyn. Billy (Brooke), their children Kailum and Adison. Her sister, Lana (Barry), many nieces, nephews, cousins, extended family, and many dear friends.
She will be greatly missed.
A Celebration of Linda's life will take place on July 19, 2019, at 2:00 PM at the Lougheed Community Hall, Pastor Ricky Williams officiating. A time of fellowship and refreshments will be served following the service.
Donations can be made, in Linda's name, to the Trinity Lutheran Church Cemetery Fund or a charity of your choice.