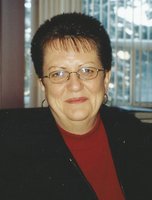 Sharon James
Sharon Jean James (nee Kinzer) was born to Doug and Muriel Kinzer in Killam, Alberta on May 5, 1951 and passed away on May 28, 2019 at the age of 68 years.
Sharon is survived by her two children Lori (Tim) and Jody (Eden); her granddaughter Virginia; three brothers Merlyn (Laureen), Collin (Julie), and Kevin (Christine); sister Colleen; sister-in-law Carol; and numerous nieces and nephews.
Sharon was predeceased by her parents Doug and Muriel; brothers Dale and Blake; and nephew Terry.
Throughout her life, Sharon made friends easily. It didn't matter where you'd go, Sharon was sure to strike up a conversation with everyone she met. She loved to talk and people always commented about how friendly and kind she was.
Her career over the years always involved people in some way. Through Office Administration, Property Management or Payroll, Sharon was a helper by nature and was proud of the work she would do.
But family was always the most important thing to Sharon. She was very close to her parents, her siblings, and loved being a Mom. But she was most proud of being a "Baba" to her granddaughter Virginia - her sweetheart and greatest joy.
Sharon loved dancing, deer sausage, dim sum, girls' trips to Radium, family trips to Drumheller, getting pedicures, and campfires. Wherever there was family and an opportunity to visit, Sharon was there.
Over the last 9 years of her life, Sharon endured a struggle that nobody should have to endure. Diagnosed with Multiple Myeloma, Sharon survived operations, transplants, chemotherapy, hospital stays, pain, broken bones, and multiple setbacks. Being the fighter she was, she kept her strength and battled through. While she will be greatly missed, we are grateful she is no longer in pain and at peace.
The family would like to take the opportunity to extend special thanks to the amazing team at the Tom Baker Centre (including her Oncologists), the team at Bethany Care Centre, and the numerous medical personnel who were part of Sharon's care over these last 9 years.
A celebration of life will be held at 2:00 pm on Sunday, June 2, 2019 at Fees & Sons Funeral Home in Killam, Alberta, with a reception to follow at the Seniors Centre. Sharon will be buried next to her parents in the Killam Cemetery – coming home to rest.
In lieu of flowers, please make a donation in honour of Sharon to the Tom Baker Cancer Centre through the Alberta Cancer Foundation.