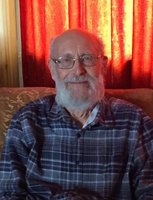 Bill Steadman
William (Bill) James Steadman was born January 6, 1928 at Battle Bend, Alberta to Henry and Minnie Steadman. Bill passed away on August 21, 2019 at the Hardisty Hospital at the age of 91 years after suffering a stroke in mid-July. He was the 4th of 5 children. He lived most of his life at Battle Bend.
Bill attended school at Battle Bend, Alliance and Sedgewick. Bill attended Sait in Calgary and became an electrician. Bill returned to the farm at Battle Bend. The next years were spent farming and working in Edmonton doing electrical work and driving a Yellow taxi. While in Edmonton he met Barbara Noden and they were married on August 27, 1955. They settled back on the farm.
Bill and Barbara raised 3 children, Nancy, Janet and Donald, on the farm at Battle Bend. Bill and Barbara loved taking their children on a summer camping road trip with a tent then with a camper later on. Bill enjoyed working in the shop fixing and improving on the farm equipment. Bill also enjoyed building things for the farm which included the house. Bill was still helping with the farming until his stroke. Bill in his later years enjoyed reading and tending to the garden.
Bill is survived by his wife Barbara; his daughters Nancy Sawka (Randall) and Janet Hope (Graham); his son Donald Steadman; his grandchildren Michelle (Sean) and Crystal (Andrew); his great-grandchildren Nolan, Rebecca, Lilah and Alex.
Bill was predeceased by his parents Henry and Minnie; three brothers, Henry, Ernie and John; one sister Minnie; and one infant daughter.
A graveside service will be held for Bill at the Battle Bend Cemetery on Saturday, September 7, 2019 at 2:00 p.m. Donations may be made in Bill's memory to the Heart & Stroke Foundation.