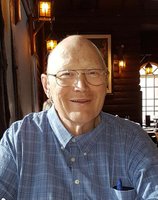 Douglas Munro
Douglas Henry Munro was born in Galahad hospital on October 1st, 1943 and passed away suddenly on September 28th at his home in Killam, three days short of his 76th birthday. Doug was born to Henry Donald (Harry) and Mary Jane (Maisie) Munro, the eldest of four children. He grew up on the farm at Merna and attended Merna School to grade 9. The family were all active in 4H, and besides grain farming they had a purebred herd of Hereford cattle calling their farm Merna Herefords.
He is survived by his loving wife Dianne, his daughters Susan, Julie (Dallas), Diana, Kathy (Marco), brother Barry (Sally), sister in law Shelley Munro, seven grandchildren, nieces, and nephews.
He was predeceased by his parents Harry and Maisie, sister Darlene Richardson, and brother Darcy Munro.
A Celebration of Life will be held at the Killam Community Hall on Monday, October 7th at 2:00 p.m. Memorial donations may be made to the Daysland Hospital Foundation, the Killam Cemetery Fund or a charity of the donor's choice.