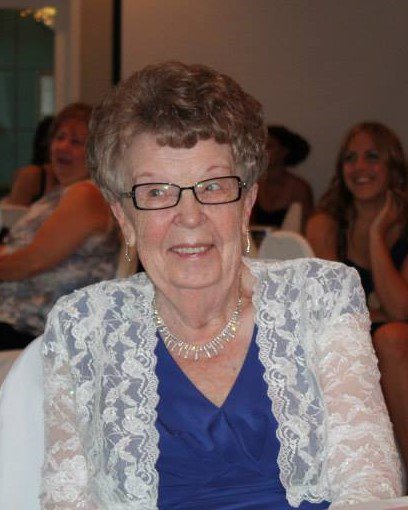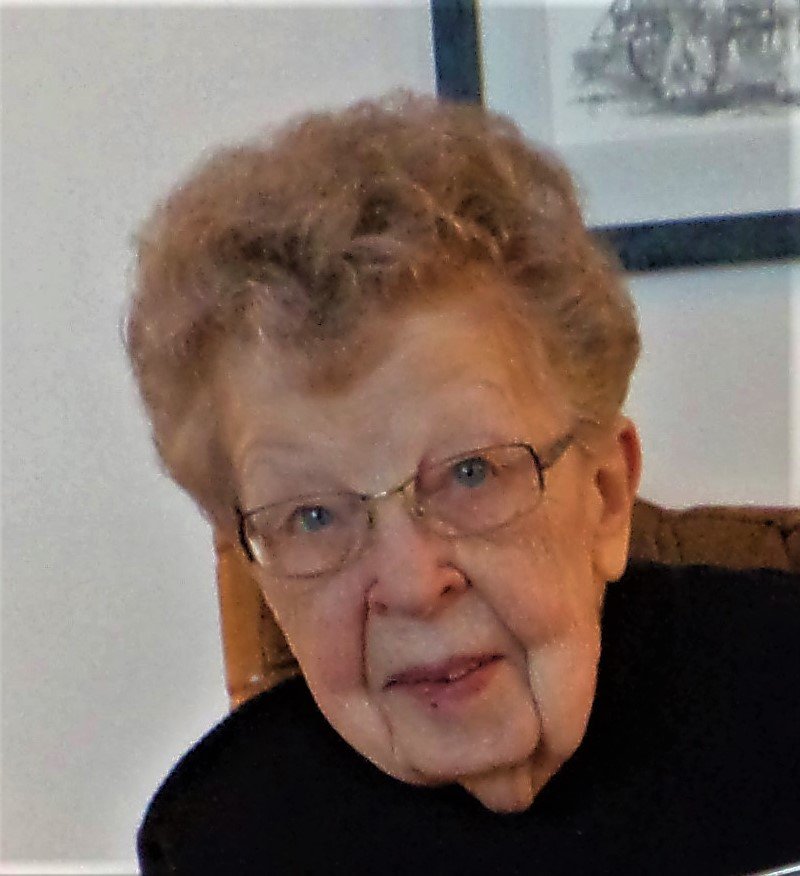 Obituary of Doris Spady
Doris Irene Spady passed away peacefully at the Killam General Hospital on January 17, 2019, at the age of 89. Doris is predeceased by mother Ida (Hendrickson) and father Harold Storvik; sister Thelma (Holloway), brothers Allan, Vernon, Herb and Wilf; and son Donald Glen Spady. She is survived by her loving husband of sixty-four years, Peter William Spady. Doris is remembered by her son Vernon, daughter Ellen (Criss) and son-in-law Bill. She is also mourned by grand-daughter Jodi van den Heuvel and husband Brenden; as well as grandson Josh, and great-grandchildren Avery and Colt. Numerous nieces and nephews who affectionately called her "Auntie" will greatly miss her, the youngest of the Harold Storvik family.
Doris was born in Bawlf in 1929, the youngest of six in a farming family. Transportation to school was a challenge back then, and Doris had to board "in town" in order to complete her education. She began her teaching career in 1949 at the age of nineteen in a one-room, nine-grade rural classroom in Scandia. She continued teaching in Merna from 1950 – 1956, then in Alliance from 1966 until her retirement in 1987. In 1990, she came out of retirement for a year to volunteer as a teacher in order to help the community school stay open. One of the things she is remembered for is her music program, which included a keyboard for every student, purchased with fund-raising dollars.
Peter and Doris were married on August 20, 1954, in Bawlf, Alberta. They farmed in the Alliance area with Peter's father, John V. Spady. Doris often took over the operation of various farm implements when she was not in the classroom, and catered to the ever-changing parade of neighbors, hired hands, and critters in and out of her kitchen. Doris placed a high value on family togetherness, instituting Storvik family reunions and re-igniting relationships among her nieces, nephews and their children.
As an active community member, Doris will be remembered for her strong leadership and willingness to dig into projects for a variety of committees and groups. She was involved in promoting the Community School and the Alliance Community Development Committee. She was nominated by the Argyle Women's Institute for Farm Woman of the Year and was one of twelve women in the province recognized. She won the Constituency Award for secretary for the Women's Institute three times. In 1970, she initiated and led the first 4-H Sewing Club in the area. She was on the local library board in a variety of positions, including chairperson of the County Library Board, responsible for overseeing ten villages and schools in the County of Flagstaff. Doris worked on the Tourism Action Committee and was a founding member of both the local Agricultural Society and the Concert Series Committee. For 17 years, professional musicians from across Canada presented live concerts and school workshops in Alliance. Doris was helpful to the local Lions club, involved with supper meetings, Fall Fest, bingos, and catering. She helped to initiate an Art Show and sale called "A Day At the Gallery" to showcase community artists. As an executive member of the Orphaned Grandparents Association, she helped facilitate an awareness program, resulting in a bill in the House of Commons to promote grandparent access as the right of the child. As a teenager, she was active in Young Peoples and Choir during high school at Bawlf, and organized a Youth Group at Merna. She was on the Merna Church Board for 5 years, then directed choir in the Alliance United Church for 17 years, presenting Christmas and Easter cantatas and countless Sunday anthems. The handbell choir was formulated, thanks to Doris's leadership, as was the Vacation Bible School. The Alliance United Church welcomed her to the board for many years. The Alliance Legion also benefitted from Doris's energies and she was a secretary for the Legion for nine years. Her brother Vernon Storvik lost his life in action in September, 1944, and in honor of his memory, Doris cared for the garden at the cenotaph, and held an executive position until she received a life membership. In 2006, she and Peter were inducted to the Alliance & District Community Builders Wall of Fame.
Doris will be greatly missed by her family, and by the entire community. A memorial service will be held at the Alliance Community Hall on Thursday, January 24th at 2:00 p.m., with lunch and then a committal to follow.
Visit www.feeandsonsfuneralhome.com for details, or to submit messages for the family.
In lieu of flowers, donations can be made to The Arthritis Society https://impact.arthritis.ca, or to the Heart and Stroke Foundation of Canada https://www.heartandstroke.ca