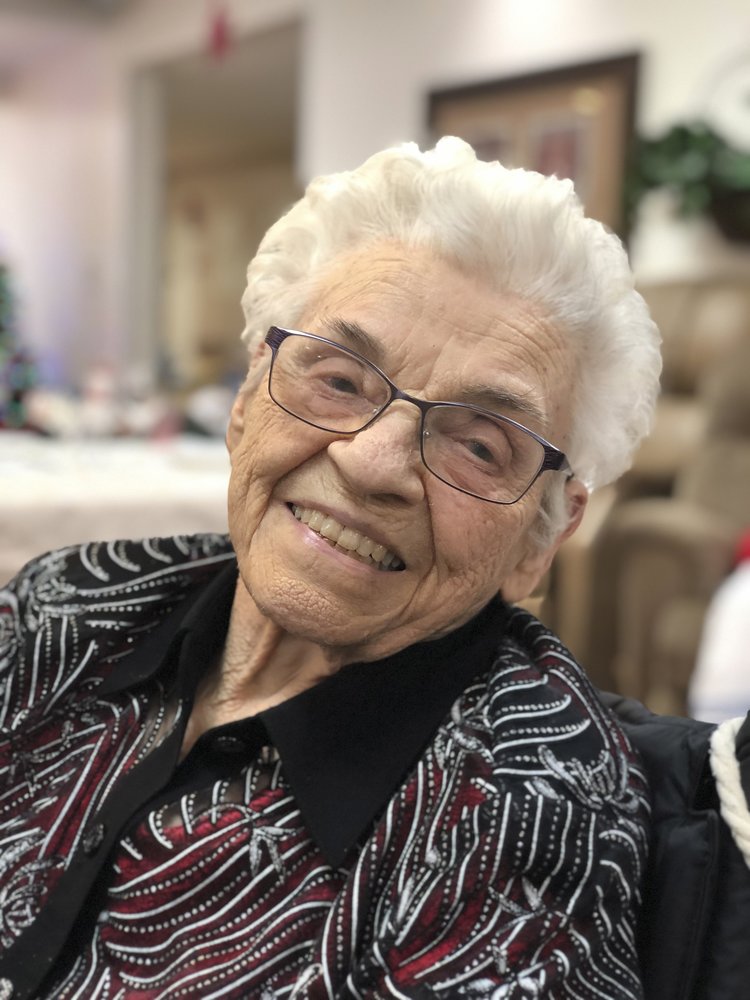 Obituary of Freda Rott
Freda Irene Rott was born on December 19, 1922, at Stalwart, SK to Christian and Katherine Freemark and entered into the presence of her Lord on April 26, 2019. Freda was the seventh of nine children and the youngest of four sisters and earned the nickname "Fritz" from her youngest brother Elmer. The family had moved to Stalwart from Walworth, Campbell County, South Dakota, then to Alberta, first Jenner, then Czar, and finally Sedgewick. In order to supplement the family's income during the depression years, Freda entered the workforce at age eleven doing house cleaning and waiting tables. Freda married Theodore (Ted) Rott in Camrose on December 9, 1940. During the war years, she lived with her family in Grande Prairie and, after Ted was transferred to the Canadian Army Pack Troops, she relocated to Prince George, B.C. After Ted's discharge in 1945, he and Freda returned to the Rott family farm south of Killam where they lived until their retirement in 1977 at which time they moved into the town of Killam. Freda then combined her kitchen talents with those of close friend Vicky Gordash to provide a catering service for many weddings and other social functions in the community. Through the years she also enjoyed the hours spent in the Baptist church kitchen with the ladies of the BCW preparing meals and lunches for the many special occasions held in the church. Those hours provided an opportunity to build close friendships with the ladies of the church which was expanded to include ladies from other Baptist General Conference churches in Alberta through kitchen duty at Lone Prairie camp. Freda maintained a regimen of supporting several missionaries serving around the world with her letters, finances, and daily prayers. Locally, she was a member of the Ladies Auxilliary for the Killam Health Care Center. As Ted's health began to decline, Freda decided to move out of her house to the Manitou Manor, then to the Flagstaff Lodge, and finally to the Killam LTC. The four years spent in LTC opened still more friendships to include roommates, residents, visitors, and staff.
Her priorities remained unchanged throughout her adult life, namely her Savior, her family, her friends, those around her in need, and somewhere way down the list, herself.
Freda is survived by her five children Shirley Long, Waterville, WA, Frank (Glenys), Maple Creek, SK, Phillip (Julie), Killam, Judy (Tim) Germsheid, Leduc, AB, and Gail (Ian) Eckstrand, Sedgewick, two stepchildren Bill (Shirley) Gascoyne, Sedgewick and Myrna Hagen, Drayton Valley, AB, twelve grandchildren Brad, Cory, Chris, Dale (Jennifer), Deanne (Mike), Travis (Kim), Steve (Kylie), Mike (Melissa), Colin (Erin), Heather (Jay), Dustin (Whitney), Jeff (Janine), Waylon, Melanie (Jay), Cliff (Cheryl), Keith, and twenty three great-grandchildren plus a host of nieces, nephews, and friends. She was predeceased by her parents, husband Ted, children Clarence Thomas, Darlene Brenda, one unnamed son, sisters Martha, Edith, and Elizabeth, brothers Bernard, Manuel, Edwin, Leo, and Elmer, son in law Jim Long, granddaughter in law Barb Fehr plus brothers in law and sisters in law.
A memorial service will be held at 2:00 p.m. on Thursday, May 2, 2019, at the Killam Baptist Church.